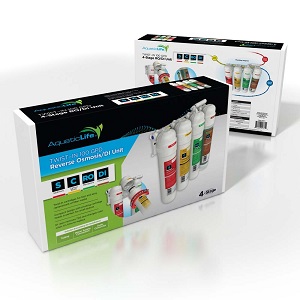 Product Details
Aquatic Life Twist-In 4 Stage RO Unit 100gpd
The Aquatic Life Twist-In 100 GPD 4-Stage Reverse Osmosis Deionization (RO/DI) filtration system is a compact water purification solution that efficiently combines reverse osmosis RO and DI technology with our quick and easy to change twist-in replacement filter cartridges. The new twist-in media cartridge design makes filter changes simple, easy and clean no tools required and no mess! The twist-in cartridges can be easily changed in only seconds with just a quarter turn and without contact with used filter material, and the supply water to the unit does not have to be turned off to replace any cartridge. Small footprint of the unit makes it easy to place under cabinets or in limited spaces. Twist-In cartridges for fast and easy replacement of filter media. Triple-sealed cartridges ensure trouble-free operation. Compact design with pivoting cartridge heads is perfect for small spaces. Mounting Brackets hold the unit securely while mounted in a convenient location. Includes everything for installation: Tubing, Water Supply Connectors, Drain Connector.
| | |
| --- | --- |
| Product PDF: | |
| Extra Details: | |
The following accessories are available for this item.
| | | | | | |
| --- | --- | --- | --- | --- | --- |
| Item |   | | Description | Quantity | Price |
| 701375 | | | AQUATIC LIFE RO MEMBRANE | in stock | $63.99 |
| 701377 | | | AQUATIC LIFE SEDIMENT RO CRTDGE | in stock | $14.99 |
| 701380A | | | AQUATIC LIFE DEIONIZATION RO CRT | in stock | $36.99 |
| 701379A | | | AQUATIC LIFE CARBON RO CARTRIDGE | in stock | $15.99 |